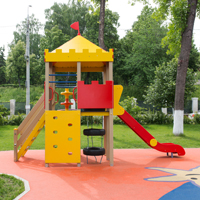 Have you or your child been injured while playing at a local park or playground? If so, you are not alone. Every year thousands of children and adults suffer injuries as a result of slips and falls at both private and public parks and playgrounds. These injuries can range from simple knee scrapes or bruises to broken bones, loss of limbs, traumatic brain injuries, internal bleeding, and even death. For many families the injuries which result from slips and falls at parks and playgrounds will result in significant medical expenses and insurance copays.
Common Types of Slip and Fall Accidents at Parks and Playgrounds
All types of parks and playgrounds, both private and public, can become locations for slip and fall accidents.
Some of the most common types of slip and fall accidents at parks and playgrounds result from:
Unsafe swing sets
Faulty slides
Falling tree limbs
Wet spots creating by poorly maintained pools or lakes
Improperly maintained sidewalks or trails
Decaying or rotten park bridges
Finding Fault in Park and Playground Slip and Fall Accidents
In addition to the costs for emergency room care, injured individuals may receive compensation for the costs of ongoing medical treatment, prescriptions, rehabilitation expenses and loss of wages.
In order to be entitled to compensation, the injured party must be able to demonstrate that a third party was responsible for their sustained injuries. If a third party had a duty to maintain the premises and fix any dangerous conditions, but failed to do so, the third party could be sued for negligence under a theory of premises liability.
Responsible third parties may include a municipality's Parks and Recreation department, or other government entity that owns the park or playground; private land owners, maintenance or landscaping companies, recreational facilities management companies; even the families of other children, if the actions of another child resulted in your child's injuries. If the injuries were caused by a child's own actions, it may be more difficult to bring a successful lawsuit.
Certain limitations may apply if the responsible party is a government entity. Unique issues concerning governmental immunity, Federal Tort Claim Act compliance, caps on damages, and mandatory notice provisions arise in those cases. In order to successfully navigate the legal procedures involved with pursuing a claim against a government entity, slip and fall accident victims and their families should consult with an experienced Delaware slip and fall lawyer.
Delaware Slip and Fall Lawyers at McCann Dillon Jaffe & Lamb, LLC Assist Individuals Injured in Park and Playground Slips and Falls
If you or a loved one has been injured in a slip and fall that took place at a park or playground, you may be entitled to compensation for these injuries. At McCann Dillon Jaffe & Lamb, LLC our Delaware slip and fall lawyers represent all types of accident victims. Our offices are conveniently located in Philadelphia to serve individuals throughout Pennsylvania, including Delaware County and Chester County, as well as in Delaware and New Jersey. Call us today at 302-888-1221 or submit an online inquiry form to schedule your free confidential consultation.